Dates: July 15-18, 2024
Age: All Ages
Fees: Adults $700; Children $400. Cabin minimum of $3,000.
Registration Deadline: Until Full
Dates: August 12-17, 2024
Ages: All Ages
Fees: Adults $1,050, Children $700. Cabin minimum of $4,900.
Registration Deadline: Until Full
Our Family Camp Program is structured to give participants a taste of our 3-week Summer Camp sessions in a condensed 4-day or 6-day format. This is a wonderful opportunity for future summer campers to experience Manito-wish with their whole family in preparation for when they are old enough to attend the 3-week sessions, for alumni to reconnect and enjoy their summer home, or for new families interested in spending time together in our Camp setting.
Each Family Camp experience includes living on site in a cabin, eating family-style meals in the historic Nash Lodge, spending time participating in a variety of activities, sharing their talents at the Camp Show or simply unwinding beside an evening fire and enjoying the night sky in our gorgeous Northwoods setting on Boulder Lake.
Your time at Family Camp can be as active or as relaxing as you would like it to be. Most program areas include instruction during your time at Family Camp. Both water and land activities are available and include: Archery, arts & crafts, nature, mountain biking, swimming, horseback riding, paddling (canoeing, kayaking or SUP), riflery, sailing, tennis, the high ropes challenge course, and indoor climbing wall. During our 6-day Family Camp there is an optional overnight camping opportunity lead by our staff.
Please note: During Family Camp, we do not have the capacity to provide childcare services, we are only able to facilitate experiences. Children 10 years and older may independently travel from program area to program area on their own; however, children 9 years and under, must be accompanied by an adult at all times.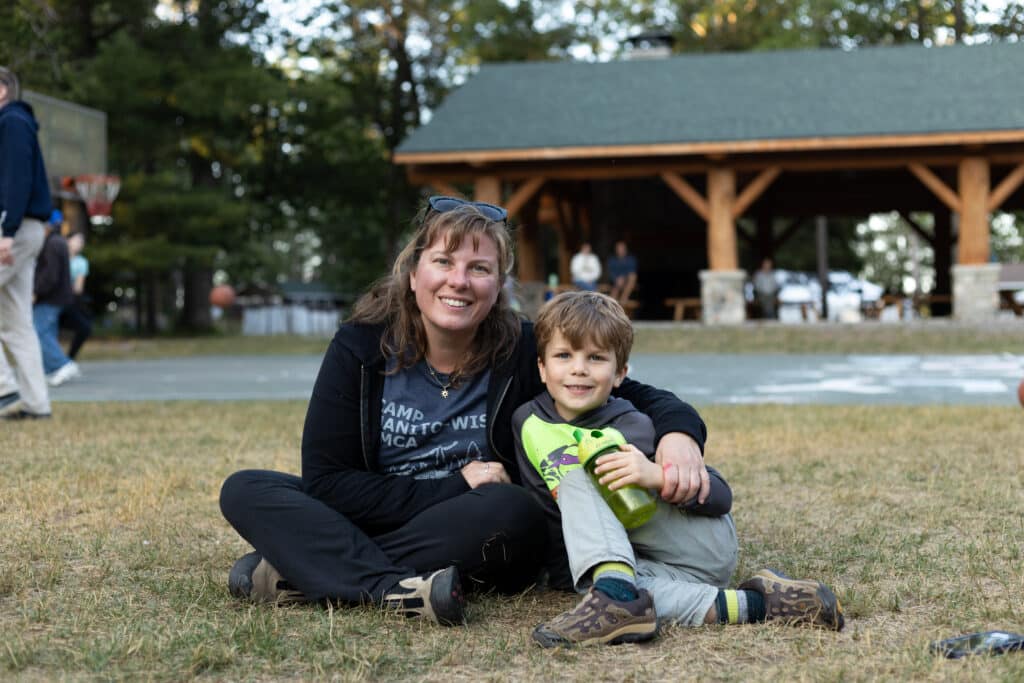 You've registered for Family Camp and now it's time to get packing.
Here are some suggested items to bring with you and your family.
Day One - Opening Day
2pm-5pm - Arrival & Program Activities
5:30pm - Dinner in Nash Lodge
6:15pm - Family orientation
7:15pm - Carnival
Day Two
7:30am - Breakfast
8:15am - Waterfront Orientation
9:30am-11:30am - Program activities
11:30am-12:00pm - Free Swim
12:30pm - Lunch
1:30pm-2:30pm - Family Rest Hour
2:30pm-4:30pm - Program Activities
4:30pm-5pm - Free Swim
5:30pm - Dinner
6:15pm - Family conversations on the North Ball Diamond (NBD)
7:15pm – Section Game such as Frosty Ball
Day Three- Paul Bunyan Day
7am - Calisthenics and morning swim
7:30am - Lumberjack breakfast
9:30am-11:30am - Program Activities
11:30am-12pm - Free Swim
12:30pm - Lunch, Paul Bunyan Day and sing along
1:30pm-2:30pm - Family Rest Hour
2:30pm-4:30pm - Program Activities
4:30pm-5pm - Paul Bunyan Day Games
5:30pm - Dinner
6:15pm - Family reflection time in your cabin
7:15pm - Closing Campfire and Square Ceremony, Ice Cream Social
Day 4 – Closing Day
7:30am - Breakfast
9am - Pack up and clean up
Day One - Opening Day
2pm-5pm - Arrival & Program Activities
5:30pm - Dinner in Nash Lodge
6:15pm - Family orientation
7:15pm - Carnival
Day Two
7:30am - Breakfast
8:15am - Waterfront Orientation
9:30am-11:30am - Program Activities
11:30am-12:00pm - Free Swim
12:30pm - Lunch
1:30pm-2:30pm - Family Rest Hour
2:30pm-4:30pm - Program Activities
4:30pm-5pm - Free Swim
5:30pm - Dinner
6:15pm - Family conversations on the North Ball Diamond (NBD)
7:15pm – Canoe Sing
Day Three
7:30am - Breakfast
9:30am-11:30am - Program Activities
11:30am-12:00pm - Free Swim
12:30pm - Lunch
1:30pm-2:30pm - Family Rest Hour
2:30pm-4:30pm - Program Activities
4:30pm-5pm - Free Swim
5:30pm - Dinner
6:15pm - Family conversations on the North Ball Diamond (NBD)
7:15pm – Section Game such as Frosty Ball
9:15pm – Manito-wish After Dark (adults only)
Day Four
7:30am - Breakfast
9:30am-11:30am - Program activities
11:30am-12:00pm - Free Swim
12:30pm - Lunch
1:30pm-2:30pm - Family Rest Hour
2:30pm-3:30pm - Program Activities
3:40pm-5pm – ROVE!
5:30pm - Dinner
7:15pm – Camp Show
Day Five - Paul Bunyan Day
7am - Calisthenics and morning swim
7:30am - Lumberjack breakfast
9:30am-11:30am - Program Activities
11:30am-12pm - Free Swim
12:30pm - Lunch, Paul Bunyan Day and sing along
1:30pm-2:30pm - Family Rest Hour
2:30pm-4:30pm - Program Activities
4:30pm-5pm - Paul Bunyan Day Games
5:30pm - Dinner
6:15pm - Family reflection time in your cabin
7:15pm - Closing Campfire and Square Ceremony, Ice Cream Social
Day Six - Closing Day
7:30am - Breakfast
9am - Pack up and clean up