What is it about Manito-wish that leaves an impression on participants for a lifetime?
It might be our location on 325 acres of wooded land adjacent to over 500 hundred acres of northern Wisconsin forest, plentiful lakes and miles of rivers and streams. Or our staff, dedicated to enriching the character and leadership skills of every participant. Or our focus on promoting youth development, healthy living and social responsibility. We believe it's all of these, working together, that makes Camp Manito-wish YMCA so special for so many.
We have been in operation since 1919, so our rich heritage also plays a role. Values are embraced, while forward thinking and openness is practiced. Responsibility and respect are encouraged. And while there are laughs to share and fun to have, there's also work to do and challenges to overcome.
It's this unique combination of philosophy, approach and tradition that makes Camp Manito-wish YMCA so enriching, inspiring and impactful. You can't help but be affected by it - physically, emotionally, intellectually or spiritually - regardless of how long you're here or what program you participated in – that is the Manito-wish experience.
Camp Manito-wish YMCA has been helping youth build character, embrace core values and cultivate leadership skills since 1919. And while times have changed, our methods haven't. We focus on three major areas of emphasis to instill these qualities in our program participants: Collaborative Leadership, Character and Leadership Development, and Wilderness Tripping.
This model of leadership emphasizes checking egos at the door, embracing new experiences, developing relationships, and partnerships, creating a shared vision, identifying strengths and learning from mistakes. These qualities, which have grown out of our rich heritage and the experiences of thousands of participants, are at the heart of all our programs today.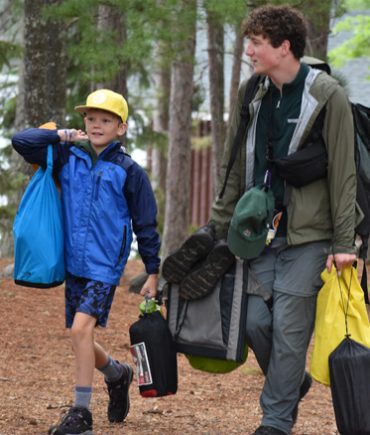 Character and Leadership Development
All of our programs - Summer Camp, Outpost Program, and Leadership - are purposefully designed to instill eight character and leadership attributes: humility, empathy, awareness of self and others, resourcefulness, resilience, optimism, adaptability and responsibility: in short H.E.A.R. the R.O.A.R. It's a sound that rings out powerfully and positively.
These qualities have proven vital to encouraging personal growth and positive transformations. They're the building blocks of character that provide a solid foundation for leadership. So we encourage participants to embrace them at every opportunity.
Additionally, our programming is progressive. As participants engage in new experiences, activities, curriculum and challenges, they are constantly growing, maturing, and gaining positive new leadership and character traits. We encourage summer campers to participate in Outpost and Outpost participants to become seasonal staff members in any of our three programs, and later in life volunteer, serve on our Board of Directors, or bring their own family to Camp so the next generation can embark on their very own Manito-wish experience.
From the earliest days of camp, wilderness expeditions (canoeing, backpacking and sea kayaking) have been an integral part of the Manito-wish experience. Small groups of youth and counselors or trip leaders embark on wilderness expeditions beyond the familiar confines of Camp. While destinations and duration vary by experience level and program area, these trips all have one characteristic in common: Their ability to instill confidence, leadership and self-esteem.