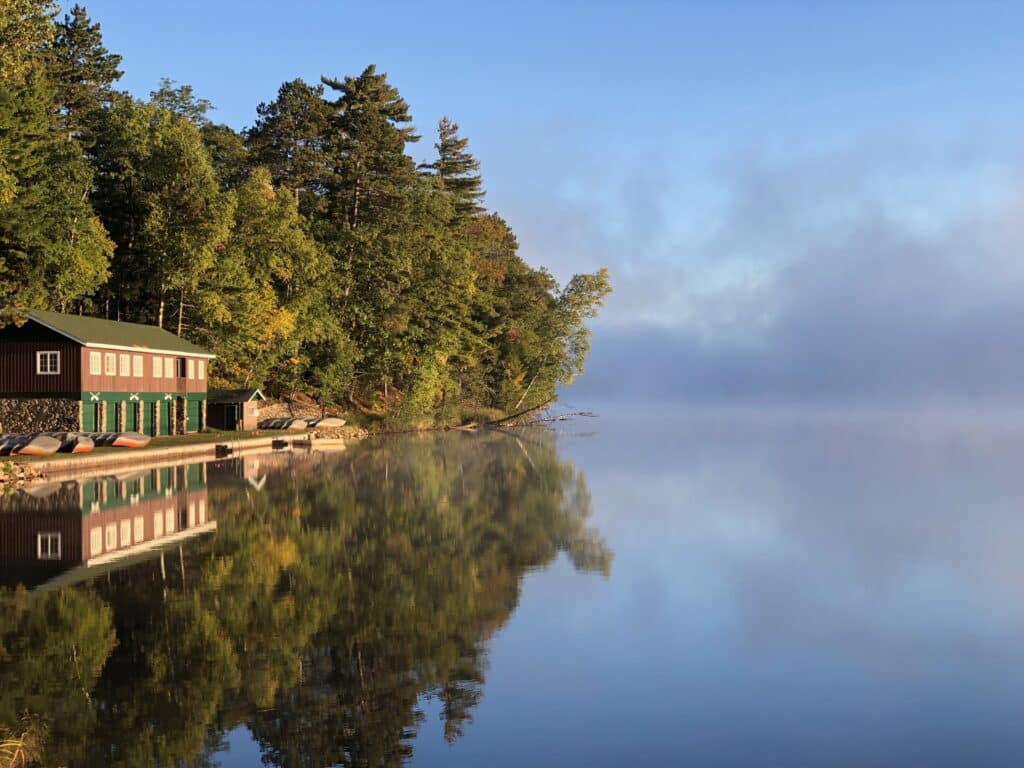 The Manito-wish Experience
For over a century, we've developed deep traditions and a thoughtful philosophy designed to enrich camp life, facilitate character development, and create connections.
At Manito-wish, you will make a lasting and positive difference in the lives of hundreds of youth. You'll engage with great groups of kids, guiding them, teaching them new skills and new ways to look at the world and themselves. In the process, you'll help them grow and transform, and you'll grow right along with them.
Benefits included with seasonal employment:
Competitive Pay.
Room and board.
Staff training including complimentary Wilderness First Aid certification for those leading trips, and discounts for Wilderness First Responder and other certifications.
Internship opportunities available.
Staff Grants are available to help with transportation and other incurred costs of employment at Camp.
Laundry service. No need to go to the laundromat.
A summer outdoors doing what you love.
Time off to recharge and enjoy the surrounding area.
Participate in our Alumni Mentorship Program Program. The Camp Manito-wish Alumni Mentorship Program enables alumni to share their professional and personal experience and expertise with current and prospective Manito-wish staff. The connections made in the program help prepare you for a successful future, navigate uncertainty, and leave a lasting impact on our community.
All seasonal staff members go through a series of training days to set them up for success in their positions including things like behavior management, bully prevention, team building exercises, child abuse prevention, small group facilitation and more. Before campers arrive, designated staff will take new staff out on Trail for a training trip where you will be able to brush up on wilderness skills you already have while learning new skills you may not currently have.
Through our Outdoor Leadership School courses, you can obtain certifications that will benefit you now and in the future. Courses offered at Camp Manito-wish are discounted for staff members or may be complimentary based on your positions. Courses include:
Wilderness First responder
Wilderness First Responder Recertification
Wilderness Fist Aid
Wilderness Water Safety
Behavioral First Responder Training
Ropes Course Certification and Skill Development
While working at Camp Manito-wish YMCA your housing and meals are an included benefit of working at Camp.
Tripping Co-Leaders, Administrative, Leadership, or Program Staff teams, will live in one of our various staff houses, which are very similar to college residence halls (bunk beds, shared bathrooms) with rooms housing 2-6 people; or you will live in staff cabins, which house 6-12 staff members and have a bathrooms and showers nearby.
Summer Camp Counselors live in cabins with another Counselor and up to ten campers, with bathrooms located in close proximity to the cabin, called "washhouses."
When leading various wilderness Trail trips, you sleep under the stars using equipment provided by Camp.
Most in-camp meals are served family style in Nash Lodge. We serve three full meals a day, with desert being served at lunch. We are sensitive to dietary preferences and restrictions, and our kitchen staff works hard to make delicious meals to fit most restrictions (such as vegetarian, vegan, gluten-free, dairy-free, or soy-free).
On Trail, groups plan, pack and then prepare their own meals over campfires and backcountry stoves, resulting in appetizing and often creative dishes such as oatmeal, pancakes, trail tacos or chili mac.
Camp Manito-wish YMCA is situated on approximately 300 stunning acres and over 1.5 miles of pristine shoreline along Boulder Lake, one of many in a chain of lakes navigable by canoe. We are in a remote area just outside of the town of Boulder Junction. There are airports in Rhinelander (about an hour away), Ironwood (about an hour away), and Mosinee (about 2 hours away). We do have a camp shuttle and ride share available.
During your time off, there are many opportunities to explore area communities and outdoor recreation.
Boulder Junction is a great place to spend your time relaxing and rejuvenating. There are a variety of dinner options, local stores, live music, a flea market, a library, and many open public parks, hiking and biking trails, and lakeside beaches to spend your time at.
We are also a short drive from the town of Minocqua, where you can find even more restaurants, shops, and entertainment - including a waterski show. We also have indoor spaces around Camp where you can relax without leaving property.